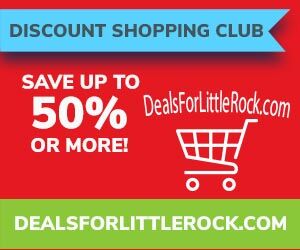 Look here for great deals on products and services at discount prices. Save up to 50% and sometimes even more. Dine out, Dine In, New Clothes, New Carpet, or just cleaning up...look for it all here.
Marco's Pizza

Marco's Pizza has a little taste of Italy in every bite! Get $50 worth of pizza goodness for only $25.

Call us today: 501-404-6560.


---

---

Happy Feet

Happy Feet specializes in comfort shoes and custom/fitted orthotics/arch supports. Happy customers have used the supports to alleviate problems like Morton's Neuroma, Plantar Fasciitis, Corns, Calluses, Bunions, Gout, Heel Spurs, Hammer toes, High arches, low arches, foot swelling, shin splints, leg cramps, burning feet and many more foot ailments.

Get a $100 gift certificate for custom/fitted orthotics/arch supports for only $50! Call us today to purchase your half-off certificate: 501-404-6560.

---

---

Revive Arkansas

Get Revive's three room flooring cleaning for half price! Normally, $105 is available for just $52.50. Call us today before the certificates run out! 501-404-6560

---

---

River City Coffee

River City Coffee has been a Little Rock Coffee Shop in Hillcrest for over four decades now. When the weather is rainy or cold, we have plenty of comfy seats available in our warm and cozy shop. And when the sun is shining and it's warm, we also have outside seating to enjoy a beverage (or ice cream) while "people-watching." It's all about coffee, but we have tea, muffins and bagels, and eight rotating flavors of ice cream. Where the quirky get caffeinated!

Our deal: A pack of two certificates for only $25.

Call for yours today: 501-404-6560.

---

---

Little Rock Music Academy

Have you ever wanted to learn to sing or play an instrument? Little Rock Music Academy offers a 30-minute lesson once a week in either Piano, Guitar, Voice, Drum, or Violin for just $62.50 per month. Regular price is $125 per month. Call us today at 404-6560 to get your half-price music lessons!